Luxuricat Hammock
for cats who purrfur to nap on a cloud
Casa di Gata's Luxuricat Hammock is now available in our Ebay store: https://www.ebay.com.au/str/casadigatahouseofcats
Hand crafted in Australia, the Luxuricat Hammock is soft, cool fabric on the summer side, snuggly polar fleece on the winter side, with a layer of fabric between for optimum support & comfort. Luxuricat's corner tabs are durable polyester webbing and come with 4 sturdy carabiner hooks for hanging your Kitty's Luxuricat Hammock in your chosen spot.
Our Luxuricat hangs in a covered enclosure. Hillary climbed straight in and stayed for hours while I tried to photograph! Have you ever seen a Kitty more at home & comfy in a brand new location?
You may choose to fit your Luxuricat under a table or chair, desk, shelf, wardrobe...some people even hang theirs under their bed. Simply screw in some eye-hooks and connect the carabiners (additional hardware not provided). Wherever you choose to locate your Luxuricat Hammock, you are providing your Kitty with a luxurious, snug, private retreat she can call her own.
Hand crafted in Australia, the Luxuricat Hammock uses quality fabrics, threads, webbing & hardware.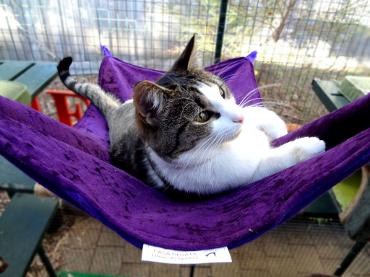 Colours: Luxuricat Hammocks are available in a range of colours, including our signature purple.
Dimensions: The Luxuricat Hammock is approx. 49cm wide by 72cm long excluding corner tabs. 53cm wide by 78cm long including corner tabs...big enough for 2 Kitties to share.
Laundering: Gentle cycle; warm or cold water, mild detergent. Rinse well. Lay flat or hang to dry. Please do not bleach, scrub, wring or iron.